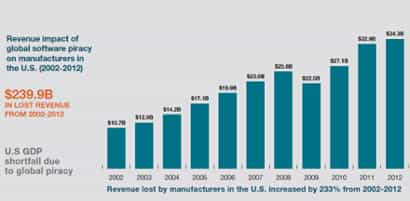 A report from the National Association of Manufacturers connects the dots from software piracy to the loss of over 42,000 manufacturing jobs and over $239B in revenues, as shown in the figure on the right. While I believe the basis of the study and trust the methodology, there has always been some lingering doubt about the tangible impact to real-world victims. Recently, however, the ramifications of losing manufacturing jobs hit home while our team at Cylynt was researching software piracy in the area of automotive diagnostics.
Diagnostic software isn't something you think about every day, but it is an important part of the automotive industry. This is the software that is used to service, maintain, and repair our cars, which are increasingly becoming rolling computers. And it goes beyond cars, as this sophisticated software is also used to service trucks, farm equipment, and other vehicles used in the heavy machinery industry. In total, there are literally hundreds of manufacturers churning out thousands of software applications with billions of lines of source code. And now the bad news—not all of this software is legally licensed and there is a proliferation of websites where unauthorized copies can be purchased and downloaded on the gray market or dark web.
So, you may be asking yourself how does any of this affect me and why should I care? Well if you own an automobile you are paying for the development of these diagnostic tools and it is in your best interest to have your service performed with the latest legal software copies, as this is the best way of maintaining the value of the automobile. In addition, you want to make sure that any service performed on the vehicle is done using legitimate parts that are certified by the manufacturer. There is a proliferation of counterfeit auto parts, often installed by unauthorized repair shops that also use the cracked or pirated software. This gray market auto repair industry can cause safety issues with the vehicle, void manufacturers warranties, and cause damage that leads to more serious and expensive repairs down the road.
Consumers are not the only victims from this type of piracy. The automobile manufacturers lose money if they have to make warranty repairs that might not have occurred with genuine parts. The dealers, who sell vehicles with thin margins, are victimized when the service revenue is diverted to the secondary repair markets. And legitimate auto-parts manufacturers lose revenue to unfair competition from mostly foreign manufacturers of counterfeit or knock-off replacement parts. This leads to job losses and an economic drain on domestic manufacturers.
There are viable technological and business solutions that can correct these problems in the automotive ecosystem and simultaneously put a real dent in the gray market for pirated diagnostic tools and counterfeit auto parts. On the business side, consumers need to understand that their rolling computers really need the latest software patches and the most up-to-date diagnostics software to keep their vehicle running safely and well and not void the warranty. Dealers need to make sure they explain to consumers the risks of counterfeit parts and the importance of software updates. And probably most importantly, on the technological side the automotive industry needs to recognize the importance of the intellectual property they own. They need to leverage the same advanced technology that EDA and CAD software developers use to detect and report on counterfeit software, and they need to take legal action if they are victimized by pirated software.
Last year Mercedes Benz won an important case is Louisiana where an auto parts manufacturer had illegally sold approximately $18 million in unlicensed diagnostic software. This is encouraging news, but it is only the tip of a big gray market iceberg that is the world of pirated diagnostic software. We hope to shine some light on this market in the future and to get more of the industry on track with genuine software and genuine certified replacement parts.