Preview: Rory O'Connor, a cybersecurity consultant and former SVP of cybersecurity at Irdeto, comments on the Flexera acquisition of Revulytics in order to help software suppliers derive more value from their software.
Rory O'Connor is a cybersecurity consultant and former SVP of cybersecurity at Irdeto, where he was responsible for leading the company's revenue assurance strategy and anti-piracy efforts. He is a vocal defender of intellectual property rights in the press and at conferences globally.
Flexera announced a definitive agreement to acquire Revulytics last week. Flexera chief executive Jim Ryan said in the press release that he was targeting "software suppliers looking to derive more value from their software." Flexera SVP Brent Pietrzak stated that "software monetization is more than licensing and enforcement" and that the focus would be on software usage and analytics.
A Positive Sign for the Software Industry
This is a positive sign for the software industry, especially developers of on-premise applications, as we are living in a data-driven world. It has never been more important for software companies to be able to understand their users and protect their intellectual property. On-premise software vendors have been victimized by piracy for years, and these companies are also being marginalized from a valuation perspective compared to the software-as-a-service (SaaS) world, where software is inherently more traceable. I strongly believe that visibility into the user community and better copyright protection are the cornerstones of higher valuations and improved monetization of software assets.
It is great to see Flexera embracing the importance of analytics and compliance for independent software vendors (ISVs). It is a golden opportunity to educate software companies that are not currently using license compliance or usage analytics technologies that these platforms can grow their businesses and provide valuable insights. Moreover, this can potentially level the playing field, as today there is easy access to counterfeit licenses because license managers fail to secure what they were designed to protect. Honest software consumers are subsidizing those who unscrupulously use unlicensed software.
A Rising Tide Lifts All Ships?
The saying that a rising tide lifts all ships isn't entirely true. If your boat has a leak in it, it will only rise if you fix the leak or have a bucket to bail out the water. The cynics have described Revulytics as a bucket to float Flexera's boat, but this isn't entirely fair. Their licensing technology is subject to cracks; however others also have similar issues. Once you have deployed a license manager it is very difficult to replace it when it becomes compromised. I have always believed in a security strategy that is built upon an in-depth defense and this is a compelling argument independent of the technology stack an ISV chooses.
I would encourage all software companies to deploy proven strong licensing technology in concert with robust usage analytics and reinforce it all with tamper detection and license compliance solutions. Ideally all this technology should be aggregated into an easy-to-use and powerful business intelligence platform that helps companies monetize their software efficiently. Does all of this technology need to come from the same vendor? Opinions may vary, but it usually pays to use best-in-class solutions rather than become locked into a single vendor. It is more important that the data is stored in the same repository, so the management, sales, and compliance teams can visualize all aspects of the business through a coherent lens.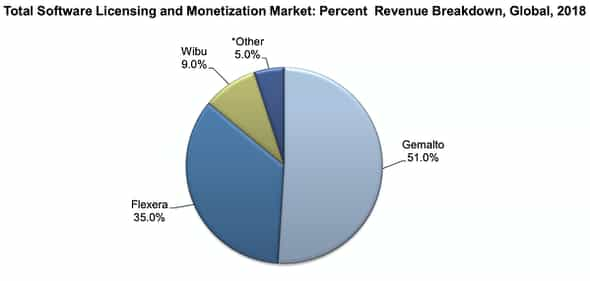 Image courtesy of Frost & Sullivan
A Fox Guarding the Hen House?
These recent events are significant for the customers of Revulytics' Code Armor Intelligence and Trackerbird software. Other licensing tools such as Gemalto, Wibu, and Reprise comprise 65% of the market (see pie chart) and customers of Revulytics with licensing tools other than Flexera may be concerned that they will be forced to move to FlexLM, which could have a significant impact on their product roadmap. If they want to stay with the existing vendor, they could move to an alternative product like Cylynt, as it is much easier than changing license managers. However, it may require several years to fully migrate due to the legacy of older versions. These customers will be faced with a difficult choice if Flexera begins offering the integrated only version in a year's time. Therefore, it is important to quickly deploy compliance solutions that address your legacy base while enabling you to focus on incorporating comprehensive telemetry data in newer versions to increase revenues. Leaving compliance solely with your license manager is never a good idea and the combination of license management and compliance from a single vendor is likely to be as successful as the fox guarding the hen house.