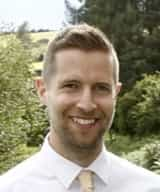 Cylynt is delighted to welcome Carl Daly to the team as he takes on the lead for product management. With over 11 years' sector experience, Carl will be responsible for managing the entire product life cycle of Cylynt's portfolio of products, from strategic planning to tactical activities, including evolving existing capabilities and developing new products for the company.
From working in cyber defense product consultancy with tech heavyweight, BAE Systems, and investment bank protection specialists Murex and Information Mosaic (now IHT Markit), Carl has breadth and depth of experience in understanding customer requirements and translating this into solution implementation and execution.
"Carl joins us at a pivotal time in our planning," said Graham Kill, executive chairman and CEO of Cylynt Group. "We are experiencing year-on-year growth and it is vital to build on our strength as we drive our expansion plans forward. These include complementing our partners' offerings, addressing new verticals and geographies, and expanding our product innovation to further increase the opportunity for our customers to recover even more revenue."
"Carl's role in our product management will be a key accelerant for our partnerships and new growth opportunities, and I am delighted to welcome him to the Cylynt team."
Carl's appointment follows the recent announcement of Carolyn Dowling who has joined Cylynt as director of customer success, a strategic move by Cylynt to anchor customer success to be central in everything the company does. Carl will play an instrumental role alongside Carolyn and the customer success team, in shaping the future of Cylynt's products in his new position.
Carl can be contacted at c.daly@cylynt.com and will be based at the Cylynt office in Dublin.
Read the recent news release here.